Welcome to Raitha seva
Raitha seva is the epitome of entrepreneurial zeal. Our journey began with the start of the cashew factory, followed by rice processing and now producing cattle feed. We are one of the best in the fields that we are in. Situated at Kanyana, Hebri - a picturesque place amidst the greenery of the foothills of western ghats, gives us the unique opportunity to produce & process nature's products. Our never ending quest for best quality always is what has made us market leaders today.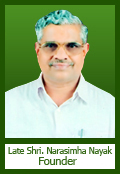 Raitha Seva Gramodyoga is an entrepreneurial venture, pioneered three decades ago by Late Sri S Narasimha Nayak. Raitha Seva Gramodyoga has seen a consistent growth since its inception in 1982. It all began with the start of the cashew factory in 1982. The rice mill was set up in the year 1987 and our journey in rice processing began. Over the years, it has grown as a leading rice brand in Karnataka. Our latest venture was the cattle feed production of which commenced in the year 2007. Today we are a force to reckon with in the field we are in.
Our founder, Late Sri Narasimha Nayak made his mark as a prominent figure in the field of business. He also believed in giving back to the society. He served as the President of Karkal Taluk Panchayath. He was unanimously elected four times as the President of Karkal Taluk PLD bank. He was known as a successful businessman, an administrator and for his contributions to the society.
Go to gallery